By region
Sydney CBD
Surry Hills-Darlinghurst
Kings Cross-Potts Point
Redfern-Chippendale
Newtown
Glebe
Balmain-Rozelle
Bondi
Northern Sydney
Home
---
Contact
---
The best
Top 10 small bars

Your guide to the best 10 experiences Sydney small bars have to offer.
[More]
---
Where to go after midnight
Late night small bars in Sydney

It's getting close to the witching hour and your favourite venue is about to call last drinks, what are your late night options for small bars?
[More]
---
New in 2013
Black Penny

A compact corner bar on Cleveland street with a relaxed, open interior and cocktails for grown-ups: 7/10
[More]
Surry Hills-Darlinghurst
---
Red Lily
www.redlantern.com.au/riley/bar.php
Crown Lane, Darlinghurst (East Sydney)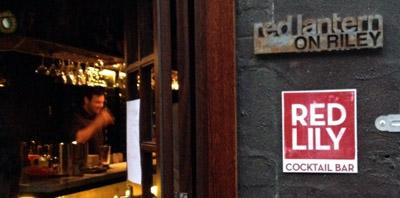 Heading down Crown Lane, you may be excused for thinking that someone imported a laneway bar from Melbourne brick-by-brick. Red Lily Cocktail Bar sits a few metres from Love, Tilly Devine but it looks and feels like a southern import. It's dark, cosy, stylish and not at all brash or showy. It sits also to the rear of Red Lantern (Riley St) which gives its menu a more Asian flair. Hence the menu is dominated by cocktails such as Monkey Magic, Cyclo or the punned Pham Fatale (with its blend of lychees, ginger, coconut, and kaffir lime vodka is fantastic on a warm night). Prices range from $17-$19, so don't go in expecting a cheap night.

Since it is attached to Red Lantern, the food available is simple but delicious. As a bonus, if you go during a week night, there are often specials that let you grab a cocktail and a snack for about $15.

Note: Red Lily faces on to Crown Lane so don't confuse it with the restaurant Red Lantern on Riley St.

---
In brief: Red Lily



Best things: Asian influenced cocktails
Don't miss: The cocktail and bar snack specials during the week
Ideal for: Small groups, dates, catch-up with friends
Date tip: Seats on left of bar with view onto Crown Lane
Gripe: Sometimes Red Lily gets booked out solely for private functions.
Rating:

8

/10
Last updated: March 2013
You are here: Red Lily Cocktail Bar, Darlinghurst review and address. Red Lily Cocktail Bar sits on Crown Lane but it looks and feels like a Melbourne import

For a more flash recovery, visit Filerecoverycentral.com