By region
Sydney CBD
Surry Hills-Darlinghurst
Kings Cross-Potts Point
Redfern-Chippendale
Newtown
Glebe
Balmain-Rozelle
Bondi
Northern Sydney
Manly
Home
---
Contact
---
Time for wine
Best wine bars

Looking for a small bar to enjoy a glass or two of wine?
[More]
---
Where to go after midnight
Late night small bars in Sydney

It's getting close to the witching hour and your favourite venue is about to call last drinks, what are your late night options for small bars?
[More]
---
The best
Top 10 small bars

Your guide to the best 10 experiences Sydney small bars have to offer.
[More]
Surry Hills-Darlinghurst
---
Play Bar
playbar.com.au
Basement Level, 72 Campbell St, Surry Hills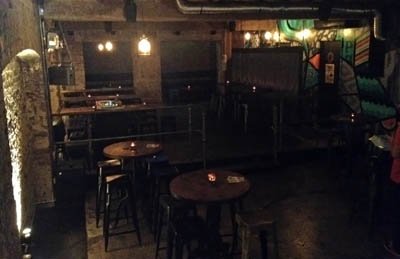 You almost feel that you need to know the password when you rock up to Pay Bar. A white vinyl record nailed to the door marks the spot (it used to be the standard black record but apparently the owners were advised this is bad feng shui for a south facing door – who knew?). There's a peephole but don't be concerned, this basement bar is about music so there's no need to knock. Just head downstairs into urban bare-bricked walls, exposed ceiling and graffiti decoration. The theme here is music – mostly on vinyl. Each night sees a different event and don't be surprised to see some local muso's playing jazz or a bit of lounge. The website shows the different themes each night, but if you are going to bring your own records for crate digger's open vinyl nights (Thursdays), be sure to contact them in advance.

Drinks are cheap by Sydney standards with beers starting around $6.50, while the cocktail menu seems more like a wordgame: Outplayed, FoulPlay, Playmaker, Pay All Night, Foreplay, Playboy and so on (all $16). Try ordering for four people and see how you go. Names aside, the drinks are a little hit and miss: the same drink going from light and flavoursome to sickly sweet when re-ordered an hour later. Spirits are $8 with a good range including some top self options for a few dollars more. Wines are in a similar price bracket with around 20 choices covering sparkling, red, rose and whites.





In brief: Play Bar
---
Best things: A bar dedicated to music, rather than just making it an after-thought.
Don't miss: Crate diggers open vinyl night (you do have some vinyl, right?)
Ideal for: Small groups, dates, catch-ups with friends, after work drinks
Date tip: Best spot hands down is the two-seater couch tucked around to the far back right corner. Otherwise hit the back bench seats in the left corner.
Gripes: The low tables are a bit uncomfortable for long stays. Some bar staff could use a little more training: they're not rude, but just a little green.
Rating: 6/10


Last updated: June 2014
You are here:

Play Bar, Surry Hills review and address. The theme in this basement bar is music - mostly on vinyl. Each night sees a different event and don't be surprised to see some local muso's playing live.