By region
Sydney CBD
Surry Hills-Darlinghurst
Kings Cross-Potts Point
Redfern-Chippendale
Newtown
Glebe
Balmain-Rozelle
Bondi
Northern Sydney
Manly
Home
---
Contact
---
Time for wine
Best wine bars

Looking for a small bar to enjoy a glass or two of wine?
[More]
---
Where to go after midnight
Late night small bars in Sydney

It's getting close to the witching hour and your favourite venue is about to call last drinks, what are your late night options for small bars?
[More]
---
The best
Top 10 small bars

Your guide to the best 10 experiences Sydney small bars have to offer.
[More]
Sydney CBD
---
Mojo Record Bar
mojorecordbar.com
Basement level, 73 York Street, Sydney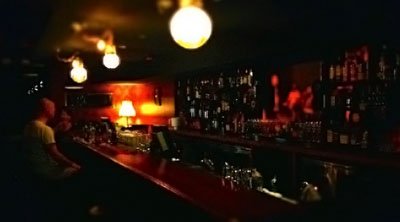 There is no secret that the music retail business is doing it tough. During 2011, Mojo Records gave itself a new life by re-emerging as a combined record shop and bar. In the process, it saved a cultural institution and gave Sydney a unique venue. And it's not just about music: even those without a strong interest in music will enjoy this bar. What's particularly appealing about both the bar and record shop is that it feels like you are in good hands. The atmosphere is relaxed, a little nostalgic and fun. This is a bar to enjoy, and not a showcase for the latest glitziest cocktails. That being said, there are some specialty choices with musical puns like the 'Lemon Cohen' and 'Smells like gin spirit'. The beer selection includes a wide selection and features Newtown brewery Young Henry's. Beers can vary throughout the year, so expect different brews on your visit.

Of course the best aspect of visit this bar is grabbing your drink and wondering around the record store. There are few music experiences as tactile as thumbing through vinyl. With some classic artists being played in the bar, a drink in one hand, this makes a simple yet memorable experience.

Finding Mojo record bar isn't too tricky but it's on the basement level, so be on the lookout for the double front doors decorated in vinyl records, to the right of the large '73' street number. Head down the stairs in front of you: the bar is one side, the record shop is on the other.





In brief: Mojo Record Bar
---
In brief: Mojo Record Bar


Best things: Welcoming feel, laid back cultural experience. Occasional live performances.
Don't miss: Drink in one hand while browsing the record collections and marveling at the art and form of vinyl
Ideal for: Small groups, catch-ups with friends, unique bar experience, dates
Date tip: If your date is into music, particularly vinyl, this is a no-brainer. For seating, grab one of the booths. These are perfect as they offer some privacy and the chance to sit next to each other, rather than across a table. Browsing the record store together creates a chance to get a bit closer.
Gripe: Record store closes earlier than the bar at the start of the week (5:30pm Monday-Wednesday versus midnight for the bar)
Rating: 7/10


Last updated: June 2014
You are here:

Mojo Record Bar, Sydney City review and address. Both the bar and record shop feel like you are in good hands. The atmosphere is relaxed, a little nostalgic and fun.