By region
Sydney CBD
Surry Hills-Darlinghurst
Kings Cross-Potts Point
Redfern-Chippendale
Newtown
Glebe
Balmain-Rozelle
Bondi
Northern Sydney
Manly
Home
---
Contact
---
Time for wine
Best wine bars

Looking for a small bar to enjoy a glass or two of wine?
[More]
---
Where to go after midnight
Late night small bars in Sydney

It's getting close to the witching hour and your favourite venue is about to call last drinks, what are your late night options for small bars?
[More]
---
The best
Top 10 small bars

Your guide to the best 10 experiences Sydney small bars have to offer.
[More]
Newtown-Glebe
---
The Midnight Special
www.facebook.com/MidnightSpecialNewtown
44 Enmore Rd, Newtown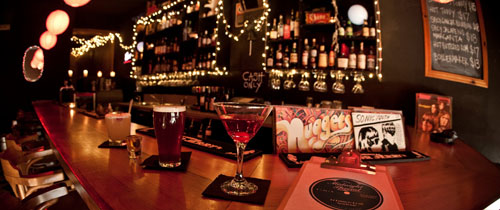 Refined grunge may seem like a contradiction but it is probably the best description for this small bar lurking just out of Newtown on Enmore Road. Inside you'll find a dark bar, lit in red tones with fairy lights. The crowd is definitely alternative, inner city rock-and-roll. This is reflected in the music which will vary throughout the night and between visits. Punk, 50s rock, metal, 70s guitar bands. It's all here. Which makes the poor acoustics a problem. The sound system is muddied and lacking crispness. Having it turned up to a higher level seems to add to the noise than the atmosphere.

Generally the bar staff are friendly but be prepared to be bumped out of turn if some of the bartender's friends turn up after you. And that reveals the downside of The Midnight Special. It may seem alternative but if you are not friends with the crowd or the staff, you may feel out of place. Seating is primarily based on booths of 6-8 people, and this creates a competition for space as everyone tries to claim their territory. These booths offer great perspectives of the bar and what's happening, but unfortunately it means mingling can be quite a challenge. If you claim a booth as a couple, expect larger groups to swamp you as the place gets busy. Some nights, the place will seem like the best in Sydney, but others you'll find it cold and exclusive.

On the drinks side, things are looking good. Here you can get away from Newtown's student hangs and boozy pubs. Young Henry's is on tap (a local brewer a few blocks away), and most drinks are reasonably priced for a small bar. A basic hotdog is available at $5 but pay $7-8 and you'll get something far more delicious with some spicy options. This is the price range where small bar hot dogs should be, particularly when you compare it to the $19 'gourmet' hotdogs at Stitch and the $14 varieties at Vasco.

Midnight Special has a small shop-front presence on Enmore Road and is well lit on the exterior. The quickest way to find it is walk up from King St on the opposite side to Oporto's. If you're heading the other way, it's few doors to the left of the Caltex petrol station.





In brief: The Midnight Special
---
Best things: Inexpensive bar, alternative crowd
Don't miss: Hanging out with Newtown's cultural edge
Ideal for: Small groups, catch-ups with friends
Date tip: Not really the place for a first date as the floor plan is small and open.
Gripe: Inconsistent bar service, sound system is muddy but loud
Rating: 6/10


Last updated: June 2014
You are here:

The Midnight Special, Newtown review and address. Refined grunge may seem like a contradiction but it's the best way of describing this small bar lurking on the outskirts of Newtown on Enmore Road.