By region
Sydney CBD
Surry Hills-Darlinghurst
Kings Cross-Potts Point
Redfern-Chippendale
Newtown
Glebe
Balmain-Rozelle
Bondi
Northern Sydney
Manly
Home
---
Contact
---
Time for wine
Best wine bars

Looking for a small bar to enjoy a glass or two of wine?
[More]
---
Where to go after midnight
Late night small bars in Sydney

It's getting close to the witching hour and your favourite venue is about to call last drinks, what are your late night options for small bars?
[More]
---
The best
Top 10 small bars

Your guide to the best 10 experiences Sydney small bars have to offer.
[More]
Redfern-Chippendale
---
Hustle & Flow
www.hustleflowbar.com
105 Regent Street, Redfern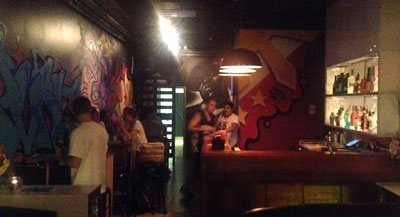 If you removed the graffiti artwork, Hustle and Flow would appear to be a modern Sydney bar with sleek clean lines, comfortable couches and friendly staff. And that would be fine for a bar located a little closer to the Eastern suburbs. However, this is Redfern and the dominating artwork covering most walls reflects the bars inner-urban location and the slow transformation of this once-derelict suburb into a place you go out of your way to visit, rather than avoid.

Billed as one of Sydneyís only dedicated small bars, it would be fair to say Hustle and Flow is probably the only dedicated hip-hop small bar currently in Sydney. They have a good sense of music level and tend to adjust the volume and style according to the crowd. Typically the Hip Hop is a little older, think 1990s, which many would argue was the golden age for this genre.

Like its neighbouring small bar, The Dock (which is just around the corner), there hasnít been a temptation to charge high prices. A simple beer such as Miller Draft is only $6, and a few unusual items appear with it: Cinnamon Girl Spices Ale is both a local South Sydney beer and comes in a 640ml serving ($10). Itís a great beer to split, or bump it up to the Sol Lager 940ml for $16. Also available are cider ($8), Sparkling wine ($7) and a limited selection of wines-by-the-glass starting at $6. Or just go nuts and grab a bottle of Dom Perignon ($295). Then there are the cocktails, with a house list that is growing. The brass monkey comes in at $7, but few people are going to think thatís such a bargain when they realise it is orange juice and beer. Donít let the Caribou Lou lull you into thinking itís just a girlie drink Ė the addition of Barcardi 151 (75%) gives it a kick. If you donít find what you want, chat to the friendly staff about what youíre after.





In brief: Hustle & Flow
---
Best things: A great bar that reflects its inner urban environment
Ideal for: Small groups, catch-ups with friends
Date tip: Double couches near the front Ė be sure to sit next to each other.
Gripes: Rugby League playing on the TV should be left to other nearby pubs.
Rating: 6/10


Last updated: June 2014
You are here:

Hustle & Flow, Redfern review and address. One of Sydney's only dedicated hip-hop small bars, located in Chippendale.